Welcome to Startercultures.eu
Sausages and charcuterie
In this webshop you will find Europe's largest collection of starter cultures for making your own dried sausages. Additionally, starter cultures.eu offers various casings and additives that you'll need for all types of homemade sausages (dry sausages, fresh sausages, cooked sausages, blood sausages and liver sausages).
Fermentation
On startercultures.eu you will also find starters for making koji, soy sauce, tempeh, miso, tofu, black bean sauce, natto, sake, amazake and much more. Now with new dairy starters for various types of yoghurt, quark and no-hassle kefir.
Languages

English

Nederlands
Offers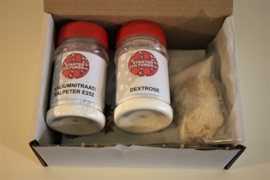 Southern European style sausage package
€ 52,60
€ 47,99
Newly added: barley koji
As per a large number of requests, we added barley koji to the store. Happy fermenting!
Shopping cart
No items in shopping cart.